Cultural Affairs at Ripley
In addition to developing their spiritual and moral understanding, we aim to give all of our pupils access to developing their cultural awareness.  Each week, we have a Cultural Affairs poster that draws focus on a song, a quote, a person and a word.  Further discussion, debate and thought are then given to each during tutor time and perhaps in lesson time. We will be sharing our Cultural Affairs topics here every Monday.
29 November – 3 December 2021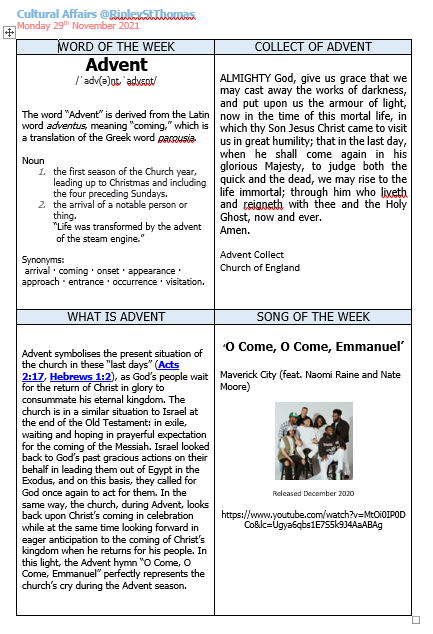 Anti-Bullying Week: 15 – 19 November 2021
On this week we used our Cultural Affairs poster to share the link to resources used in tutor time. Mrs Abell lead Chapel worship, using the theme of The Power of Words, based on this year's campaign from the Anti-Bullying Alliance. You can access their overview and resources here: Anti-Bullying Alliance.
We also encouraged pupils to join us in supporting the Anti-Bullying Alliances 'Odd Socks Day' which took place in school on Friday 19th November.

The week beginning the 22nd November, Michael continues to explore this theme through the resources that he send out for Form Worship.
Related Documents
Please click on the links below to download the relevant documents.
Keep Connected
3/3 For
#PSHEday
Year 7 have been creatively learning about the Eucharist - in Food Tech they have been making bread and in Art they are creating a beautiful banner to hang in the Chapel altar. The Chapel was full of Year 7 singing their hearts out 🎵
@Ripley_Music
@RipleyFood
pic.twitter.com/hsdqDPtlwU
27 minutes ago
2/3 For
#PSHEday
Year 7 have been creatively learning about the Eucharist - in Food Tech they have been making bread and in Art they are creating a beautiful banner to hang in the Chapel altar. The Chapel was full of Year 7 singing their hearts out 🎵
@Ripley_Music
@RipleyFood
pic.twitter.com/l1IKCYZQat
31 minutes ago