Positive Monitoring Report Cards
Using a Positive Monitoring Report Card
What is a Positive Monitoring Report Card?
A Positive Monitoring Report Card is a way for your child's teacher to give you feedback about your child's behaviour in school each day. Once you know how your child has behaved in school, you will be able to give appropriate rewards at home, which can encourage more good behaviour in school.
The daily report card is often one of the first interventions we try if your child is having behaviour problems at school. The cards are convenient, they can improve parent-teacher communication by involving both teachers and parents, and they are effective for a wide range of problems.
What is involved in a Positive Monitoring Report Card?
Pupils are placed on a Positive Monitoring Report for an agreed period. They must bring their report to school each day and hand it to their class teacher at the start of every lesson. They will take the report card home at the end of the day to be checked and signed by parents/carers.
Pupils must bring their report card to either the Subject Leader, Progress Tutor, Progress Leader or member of the Senior Leadership team at the requested time.
Class teachers are reporting on behaviours involving social conduct and academic performance. Behaviours involving social conduct include pupils working well independently and with their peers; following the rules; not shouting out and/or disrupting the learning; arriving on time for lessons. Behaviours around academic performance include ensuring all work is completed; remaining focused throughout the lesson; following instructions; motivation within lessons and overall attitude to learning.
Monitoring report cards, which seek to target negative behaviours (e.g. lack of motivation, disruption, off-task etc.), do so by using positive language to reinforce to desired behaviour (e.g. instead of "no shouting out" we want pupils to "Raise their hand").
Specific targets may be added where required and teachers are encouraged to provide additional information to support the grade awarded.
What do the report cards look like?
The different report cards are:
Subject Leader (yellow) – monitoring within a specific subject by the Subject Leader
Progress Tutor (green) – stage one – monitored by the Progress Tutor
Progress Leader (orange) – stage two – wider concerns within the year group monitored by Progress Leader
Senior Leader (red) – stage three – high profile, closely monitored by a member of the Senior Leadership Team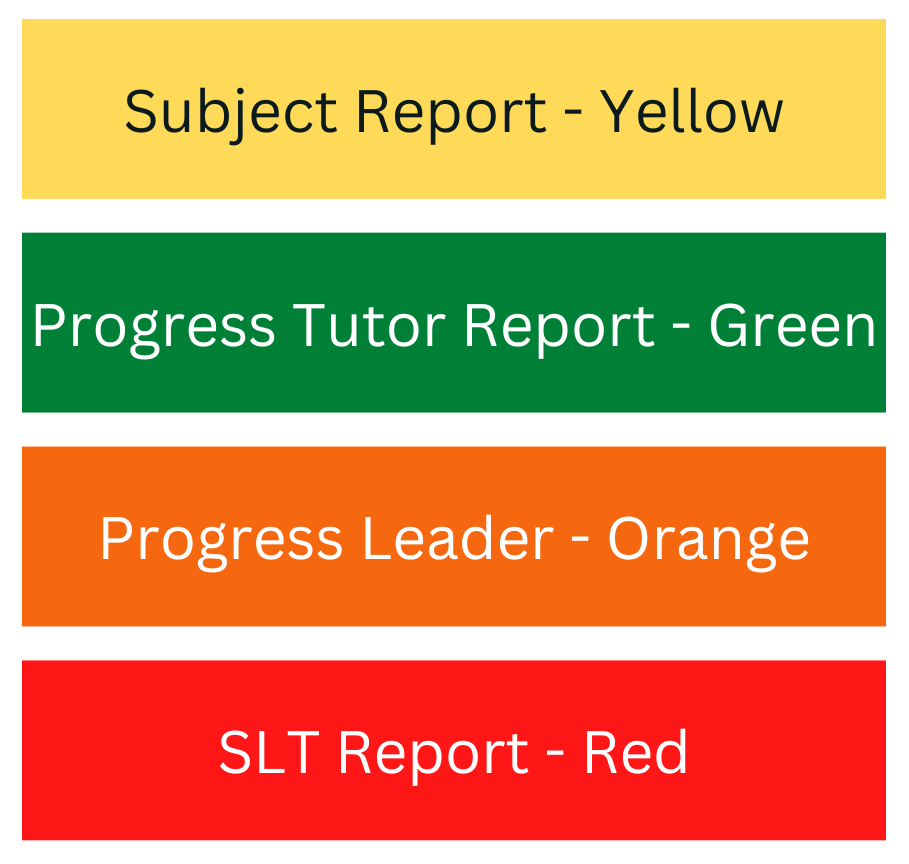 Below is an example of the report card, which includes a range of positively worded behaviours that are reported on by teachers: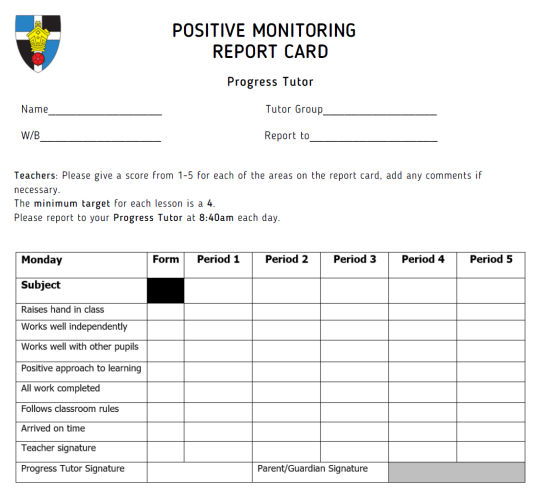 Working with Your Child's Teachers
The report cards are intended to be as clear and easy to use as possible for pupils, teachers and parents. Daily feedback is important because the reports are often tied to specific, predictable sets of rewards and consequences at home each day. Frequent feedback will be most effective in shaping your child's behaviour.
What Happens When the Positive Monitoring Reports Come Home?
When your child returns home from school, please spend some time looking at the Positive Monitoring Card, talking to your child about their day. Start by discussing the positive behaviours first and then proceed to a neutral, business-like (not angry!) discussion with your child about any negative scores (below a '3') and the reasons for them.
Then ask your child to formulate a plan for avoiding negative scores tomorrow. Remember to remind your child of the plan the next morning before he or she departs for school.
The success of the Positive Monitoring Report Card depends on a clear, fair, consistent method for translating the teachers' reports into consequences at home. One advantage of daily school behaviour report cards is that a wide variety of consequences can be used. At a minimum, you should provide praise and positive attention for your child when the report card shows good behaviour.
In addition to praise, many children need tangible rewards. For example, a positive report might lead to increased mobile phone or television time, playing out for longer, or a later bedtime. You might also use a token system in which your child earns points for positive behaviour reports and loses points for negative reports. Your child can then use the points for a special treat at the weekend (e.g. a film, dinner at a restaurant, special outing). It is fine to use a combination of daily and weekly rewards.
Occasionally, a child may attempt to undercut the system by failing to bring home a report, forging a teacher's signature, or failing to get a particular teacher's signature. To discourage these practices, treat missing reports or signatures as "bad" reports (that is, the child fails to earn rewards or is fined by losing points or privileges).
Positive Monitoring Report Cards help everyone – child, parents and teachers!
Related Documents
Please click on the links below to download the relevant documents.