---
For general enquiries please use one of the following. If you are a parent/guardian, please contact us via Parentline UNLESS you are reporting a pupil sickness or medical/dental appointment within the next 24/48 hours. If so, please telephone the 24 hour pupil absence line - 01524 64496, select Option 1 for Y7-9, Option 2 for Y10-11 and Option 3 for Sixth Form and leave a short message.
Ripley St Thomas CE Academy
Ashton Road
Lancaster
Lancashire
LA1 4RS
Opening Hours 8.45am-3.05pm
Executive Headteacher: Mrs C Walmsley
Chair of Governors: Mrs S Farrimond
Special Educational Needs Contact: Mrs L Cooper
Designated Safeguarding Lead: Mrs K Benter
Staff dealing with parent/public enquiries: Mrs J Rees
All are contactable via the number and email address below.
Ripley St Thomas CE Academy is part of the Bay Learning Trust. For Trust details please click on the logo link at the bottom of this page or call 01524 581872
email: admin@baylearningtrust.com
Tel:
01524 64496
Fax:
01524 847069
Email:
admin@ripley.lancs.sch.uk
If you would like a paper copy of anything on our website, then we will provide this free of charge. Please send us your name and postal address and details of the information you would like to receive.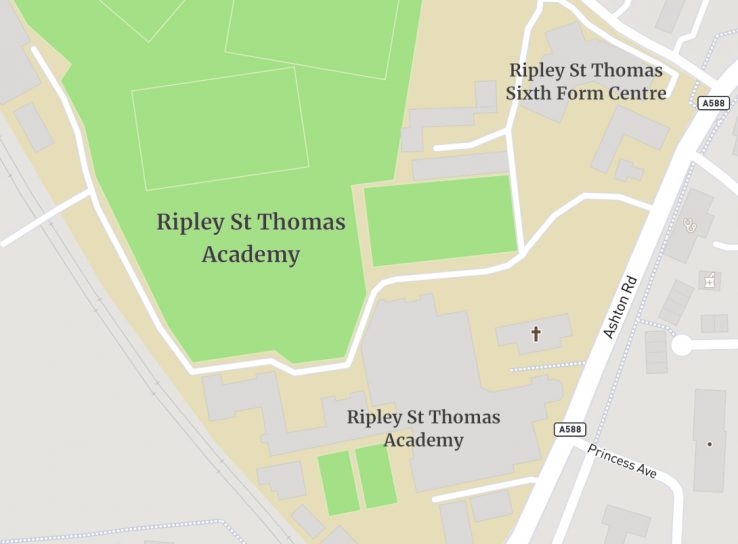 Parentline
If you are a parent of a pupil currently on roll please complete the following form. We aim to respond as quickly as possible during term time, as per our communication policy. Messages sent during holiday periods will be dealt with on return to school. For same day sickness and medical appointments telephone 01524 64496, select Option 1 for Y7-9, Option 2 for Y10-11 and Option 3 for Sixth Form and leave a short message.
Frequently Asked Questions
Please see our admissions section for details on joining Ripley in the Academy or Sixth Form.

If your child has an appointment, please contact us via ParentLine or write a note and send it in with them. We ask for confirmation of any medical appointments with a card from the receptionist at the surgery/ practice.

We strongly advise that any family holidays are not taken during term time as this detrimental to your child's education. The academy's holiday dates are on our website, please check before booking.

If you do decide to book a holiday during term time, you will need to download a Leave of Absence Request form and return it to the school's attendance officer to request permission. Lancashire Education Authority will assess any requests of leave during term time and will decide if any penalty is to be applied.

You can register your child for Free School Meals if you get any of these benefits:

Universal Credit with a household income of less than £7,400 a year (after tax and not including any benefits you get)
Income-Based Jobseekers' Allowance
Income-Related Employment and Support Allowance
Child Tax Credit, not entitled to Working Tax Credit and household income less than £16,190
Support under part VI of the Immigration and Asylum Act 1999
Guarantee element of State Pension Credit
Income Support
Working Tax Credit 'run on' – the payment you receive for a further four weeks after you finish work

Registering is really quick and easy – if you think you qualify, contact the Area Education Office, White Cross Education Centre, Quarry Road, Lancaster 01524 581112 or 01524 581163 or Ripley St Thomas CE Academy who will help you to register.