Jamie switches to fast tracks
As part of our #aspire24/7 campaign, looking at our Ripley family passions and activities outside of school, we recently talked with Year 8 pupil Jamie Rabbett.  Jamie already has a well-established successful sponsored reputation in BMX racing at his young age but is now moving over to include track cycling in his repertoire.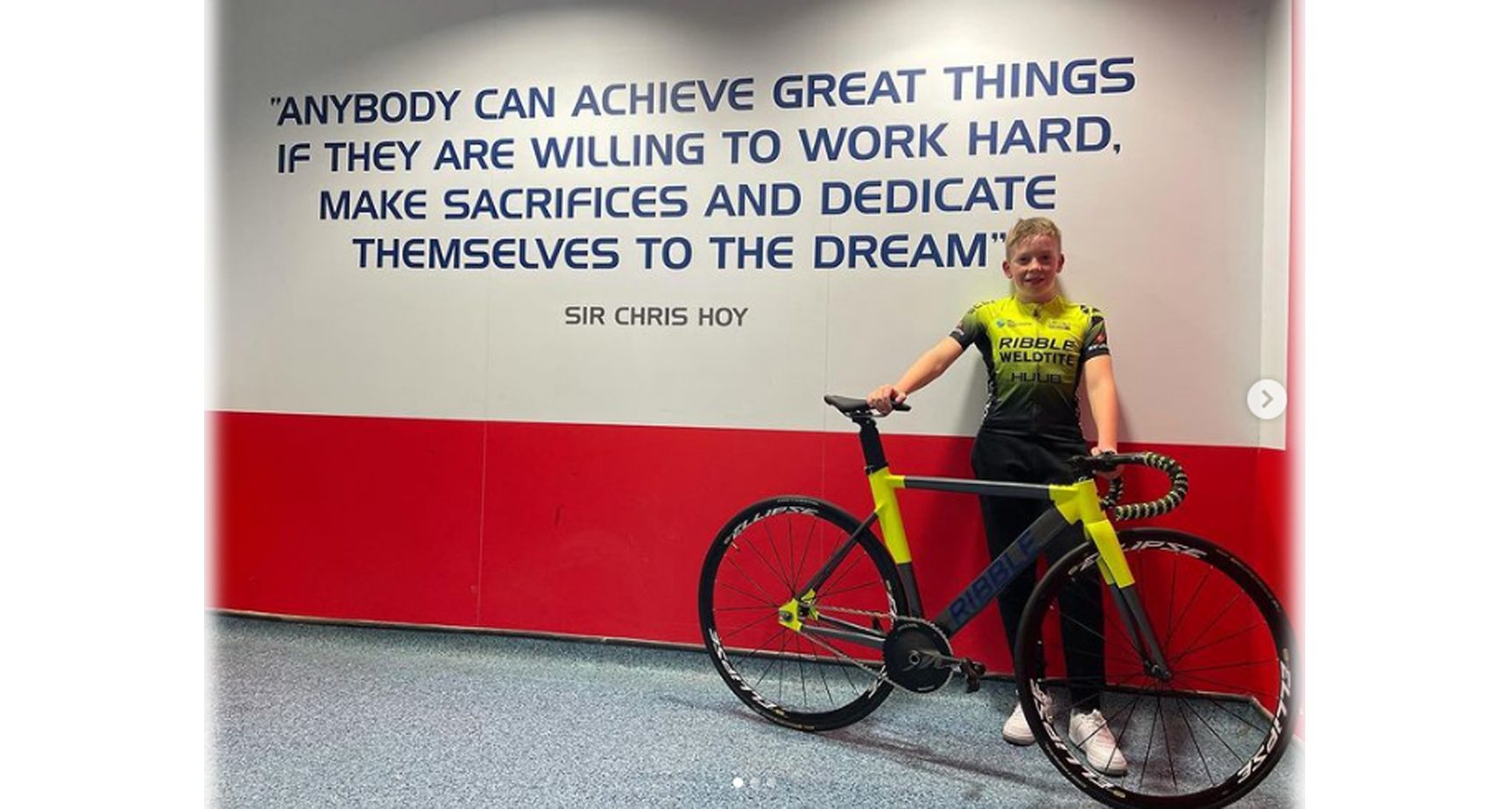 Are you still in the competitive BMX world and secondly how is the track cycling going?
I'm still doing the BMX racing, just not as much as I'm racing and training on my road bike now. I have a track race in Wales on Saturday, I've taken a step aside from BMX and am now focussing on road and track cycling.
Do you have any sponsors as you do for BMX?
I don't have track sponsors yet but my club is Sports City Velo based in Manchester and I train at the HSBC National Cycling Velodrome. Monday is track racing, Tuesday is Swift racing, that's at home online a bit like a peloton race. On Wednesday and Saturday I carry on training so I spend lots of time outside school on building up speed. https://sportcityvelo.com/wp/
As well as training hard we do still have fun and Monday night track league Charity evening race was a great evening raising money for charity. I finished the mystery race for Alzheimer's Society's (12 lap Race) in 3rd place winning a little bit of money and goodies (below).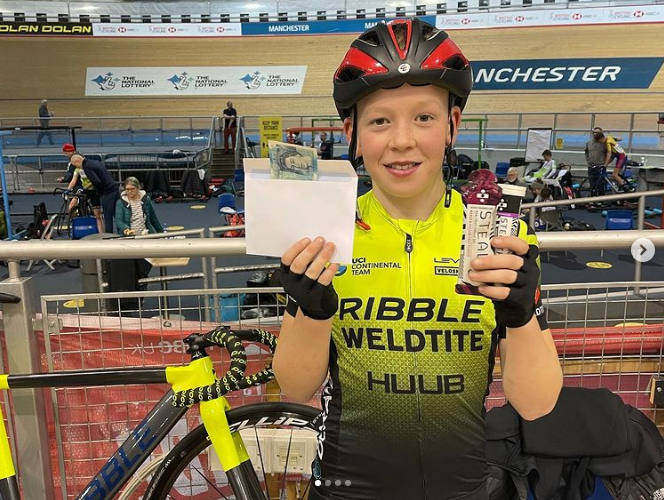 How do you manage to fit everything in, homework and training?
I just do it straight away whenever it gets set so I make sure I don't get behind or have to catch up. I make sure I do everything on Thursday, Friday and Sunday. It works doing homework on specific days. I have a routine and make sure I fit everything in. I have got used to it now.
Do you specialise at club level in certain distances a little like in the Olympics?
We don't really do that, its more on time. The events are longer than BMX which is usually sprint finishing around 40 seconds. Track cycling can be a lot longer like endurance races. They can be anything from 30/40 minutes to up to an hour. I prefer that – BMX is like sprinting and getting to the line as fast as you can but track cycling you need to pace yourself, its more tactical.
How many of you are racing in a group?
BMX is just group of 8 but on the track can be up to 18.  Getting used to more competing for top places. I have been lucky, so far no scrapes in the bunch so fingers crossed – I had better keep in front and don't come down.
An expensive activity – changing to track must mean you have a new shiny bike?
Yes I have 2, one for the road which is a carbon lightweight with new carbon wheels (my Christmas present) and my track bike is metallic grey with flow yellow forks – all shiny with sparkles – able to see me coming 😊
Do you race in age groups?
We are in categories: D – 10 and under, C 12 and under, B 14 and under so I have only just gone in B. I'm 12 so racing against older riders.
How big is the club and how would anyone join?
There are up to 30 at training sessions on Wednesdays, you would need to do a taster session which is a kind of trial then move on. It is the place to be as these clubs are looked at by Olympic selectors.
Has your goal changed since taking up track cycling?
No – I still want to get to the Olympics by getting picked for the squad representing GB.
How does that work? Are you scouted?
First go to RSR (Regional Schools Racing) – you get selected by your club member to go and coaches there train you for the NSR and push you further. I just have to keep going and get as fast a time as possible.
What sort of times are you at the moment?
Fastest time flying 200m in 14 seconds.
How does that compare with say an Olympic sprint cyclist?
They would probably be just under 10 secs. I am a couple of seconds off the British record at the moment. My 500m sprint which is 2 laps is currently 42 seconds.
We will watch Jamie's track cycling career with great interest and wish him the best of luck for the future! If you want to follow his cycling activity on Instagram look out for @jamie_rabbett
#aspire24/7