Swimming success for Ethan
Year 12 student Ethan Bland recently chatted with Mrs Cregg about his swimming passion and ambitions outside of school. Ethan gladly brought in his 46-strong medal collection of 13 gold, 18 silver and 15 bronze medals from swimming galas around the region over the last few years.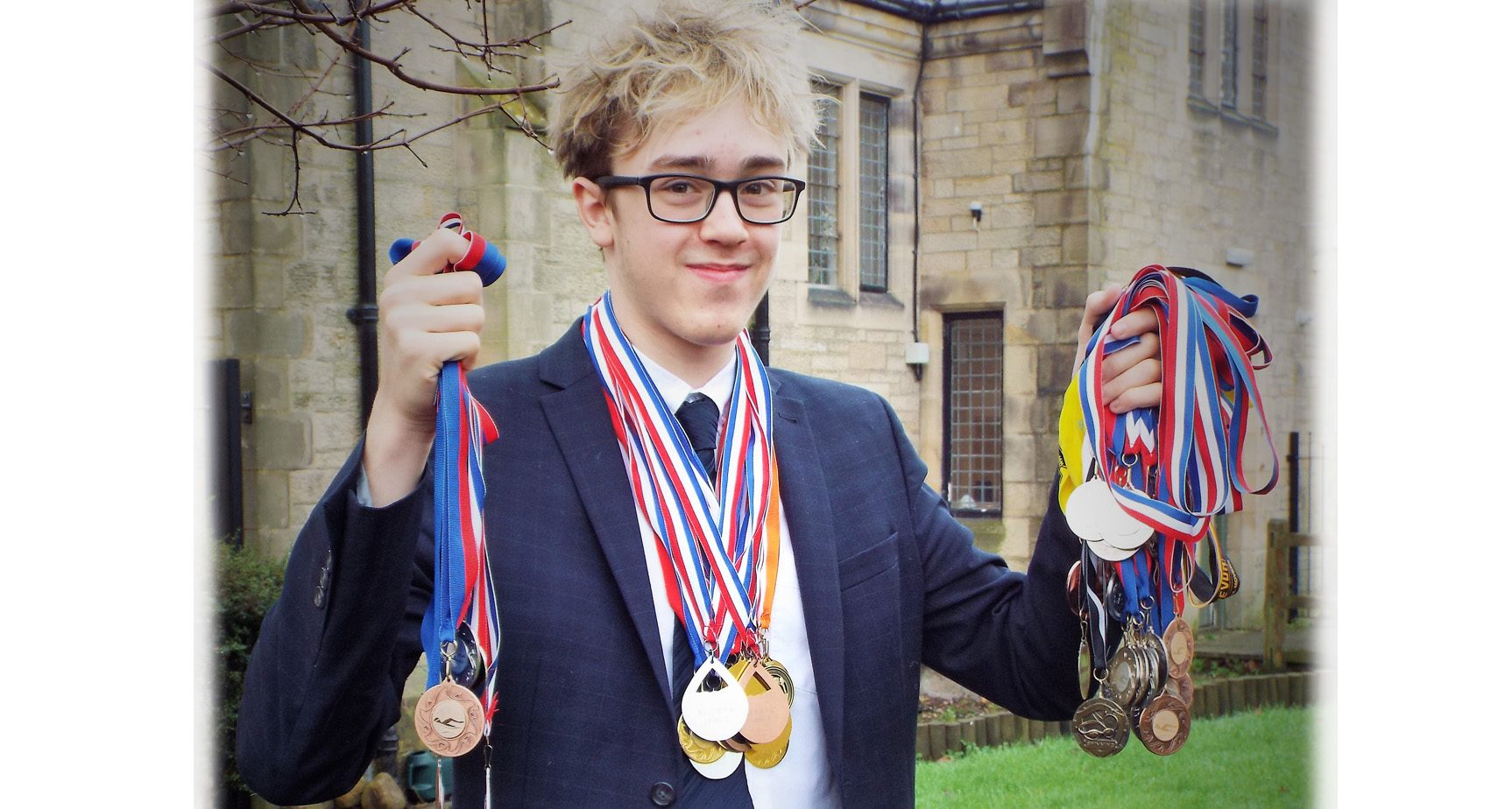 "I was swimming from a very young age. My mum always tells me this story. We were on holiday when I was about 1. I was in the shallow end wearing a vest and decided I was going to take off my vest and jump in the deep end and start swimming!
I guess it started then. I've always loved swimming, when my parents took me they couldn't get me out of the water, I just didn't want to leave.
I had swimming lessons when I was in Year 1 but I was swimming with Year 6 pupils. During a Year 6 Gala race in primary school (Scotforth), Lancaster City Swimming Club scouted me and I've been swimming for them ever since.
I still swim with LCSC now – anyone can join but it's split into Competitive Development which is anyone learning how to race and then Squads 1, 2 and 3 – 3 being the best. As you get better and faster you move up the squads. The squads are all different age groups but when you race you compete against the same age. I would swim with 16-17 olds."
Tell me about the strokes…
"I swim all 4 strokes – front crawl, backstroke, breaststroke and fly – my best is front crawl, backstroke, fly and then breaststroke. I have county times in them all."
How often do you train?
"5 times a week – can be quite punishing, after school and weekend Mon-Wed and Fri 6-9pm then Sunday afternoon. I manage to get a lot of my schoolwork done in my study time in school and am motivated enough to make sure my swimming pushes me forwards not backwards."
How did you manage to cope during lockdown?
"It was hard as we couldn't swim at all. We had 7 or 8 months with no swimming then had to come back and start the training all over again which was very hard. I have done some open water swimming in Ullswater (very cold) which was good, more fun than anything but it's not really my thing, I prefer the racing. I like short, fast, middle swimming distances 50 – 100m, sometimes 200m – not stamina long distance swimming."
It looks like your resilience and determination ensured that you were able to come back after a long gap in training?
"It was weird as I came back faster than I had left in March 2020. The first few weeks was quite slow with training after lockdown but I soon built up the levels again by the first Gala, being faster than when I left."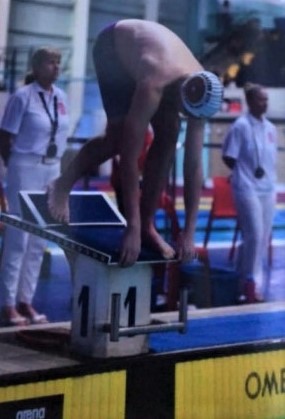 Is there a ranking system?
"There is a ranking system on the ASA website. You can check where you are placed in the county, region and nationals. I swim for County and recently got Regional status.  I will be going to swimming meets in Liverpool next week. Last night we checked my positioning online and I was 10th in the County and 14th in the region (North West)."
How do you see your swimming future?
"My goal for now is to get to Regionals and I have a time for it so I can get there, then the next step would be Nationals which I am only 1 second off at the moment. In 3 years I have a chance to be in the Commonwealth Games – there is a selection gala where swimmers are picked for the Games and if I get the times for that, which I am really close to, then I have this chance which I don't want to miss. Big goal!"
What do you see yourself doing on leaving school?
"I am thinking about doing Maths and Computer Studies – there will be opportunities to swim for university too and they usually have great pools. I am thinking about Lancaster so I can stay close to home and still continue to train with Lancaster."
Ethan has big plans for his swimming future and has demonstrated how determination, passion, resilience and motivation have played such a big part in his current success.  We will keep everything crossed for Commonwealth Games selection in 3 years – watch this space!
#outofschool
#aspire24/7