Ripley Skiers in their happy place
At 7am on Friday 10th February, a VERY excited group of 50 pupils from Year 8 upwards along with 7 staff left Ripley by coach to travel overland to Zell am See in Austria for the first Ripley ski week since 2020.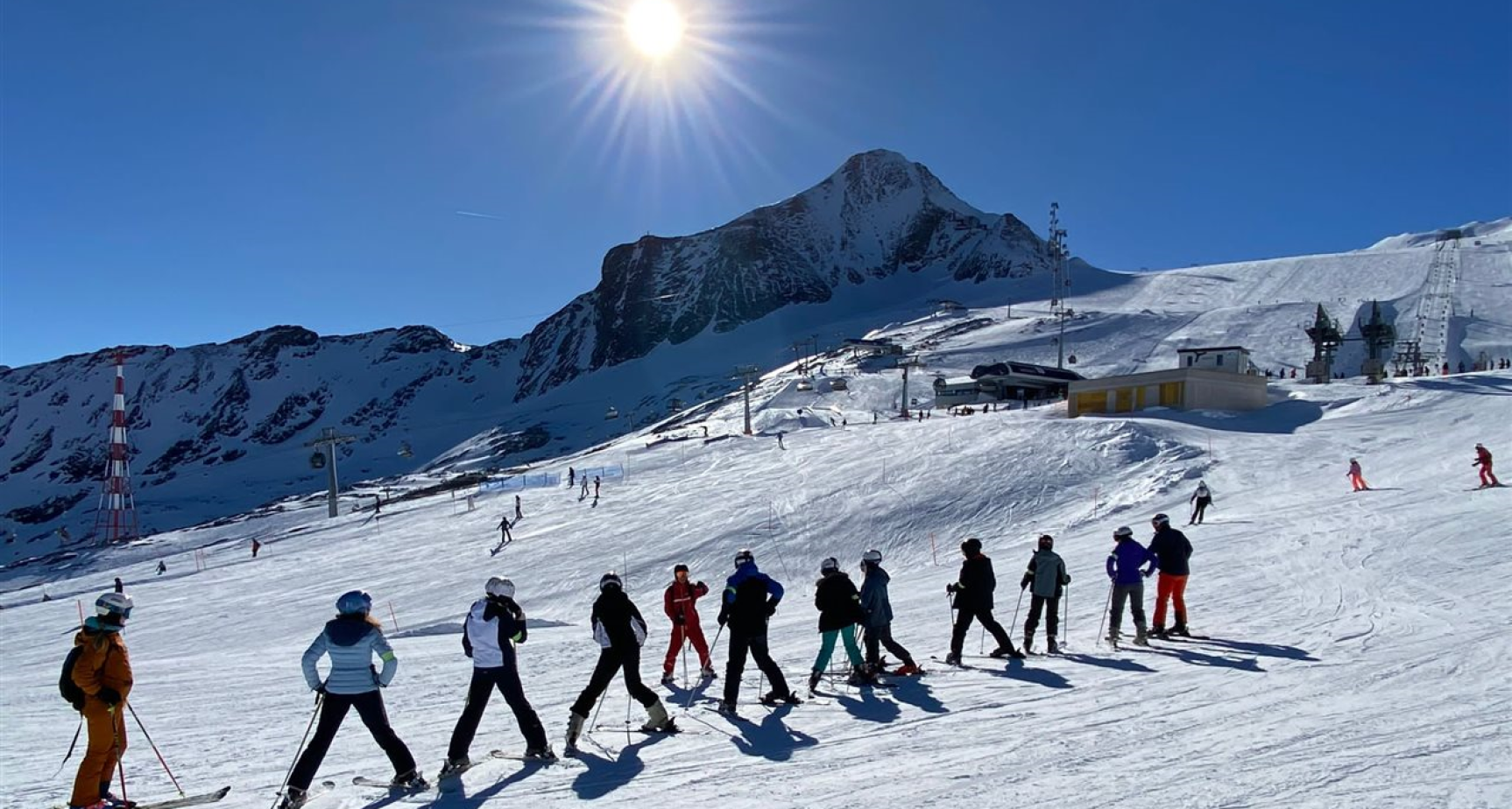 Located in Austria, Zell am See is situated on the side of Lake Zell and surrounded by alpine mountains. The town is very much geared around skiing and winter sports although in the summer months the lake becomes a hot spot for water sports as well.
The ski area covers Zell am See and Kitzsteinhorn (Kaprun). Kaprun offers great panoramic views and, due to its height and location on a glacier, it can maintain better snow conditions if the weather is poor. Zell am See offers amazing runs which are long and incredibly scenic but suffers if there is a lack of snowfall so all eventualities are catered for.
After a 27 hour coach/ferry/coach journey, the group arrived at the Pension Platzhaus which is located near Zell am See and is a stunning traditional alpine chalet and working farm.
Throughout the week, all levels were accommodated for in ski school groups of 5 hours a day with instructors – the Beginners group included first-timer Mr Quarry who had an absolute whale of a time!  The weather was amazing for the trip and some pupils even managed to do their GCSE PE assessments!
Après ski included a trip to watch a local ice hockey match, pizza night out and quiz nights back at the hotel. It is fair to say that they all needed their sleep after such busy days on the slopes.
A suitably tired and ski-fit happy group departed resort on 16th Feb bound for Calais and home the next day.
They have had the most amazing time and were such a credit to themselves, their families and Ripley and are all looking forward to next year – Mr Q is even considering booking for another trip this year after now getting the ski-bug!
The trip was a huge success as shown by just a few of the comments on social media:
 "Thank you so much to all the teachers for taking Fred on the trip – he's had a fantastic time"    Lisa
 "Just would like to say thank you for all your hard work during the ski trip. James #theyellowpowerranger has had the most amazing week"   Josephine
"A massive thank you to all the teachers for giving up your half term to take our kids away. Safe trip home and see you all tomorrow" Jill