Oscar and Daisy tumble to the top #aspire24/7
Congratulations go to Y8 Oscar and Y9 Daisy as they have now become the British Schools Gymnastics National Champions in Acrobatics! We chatted with the pair as part of our #aspire24/7 campaign to highlight pupil success and merits outside of school.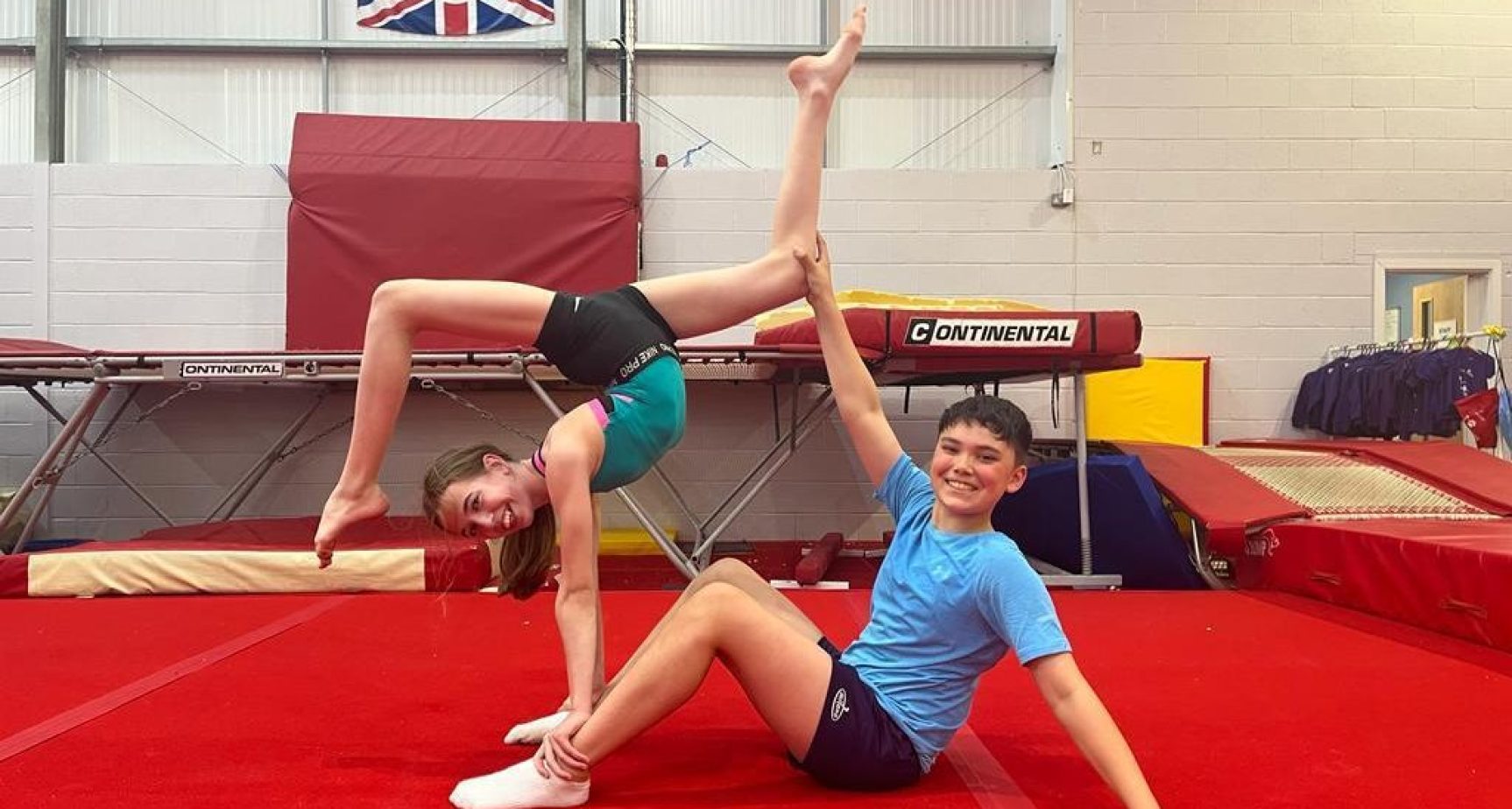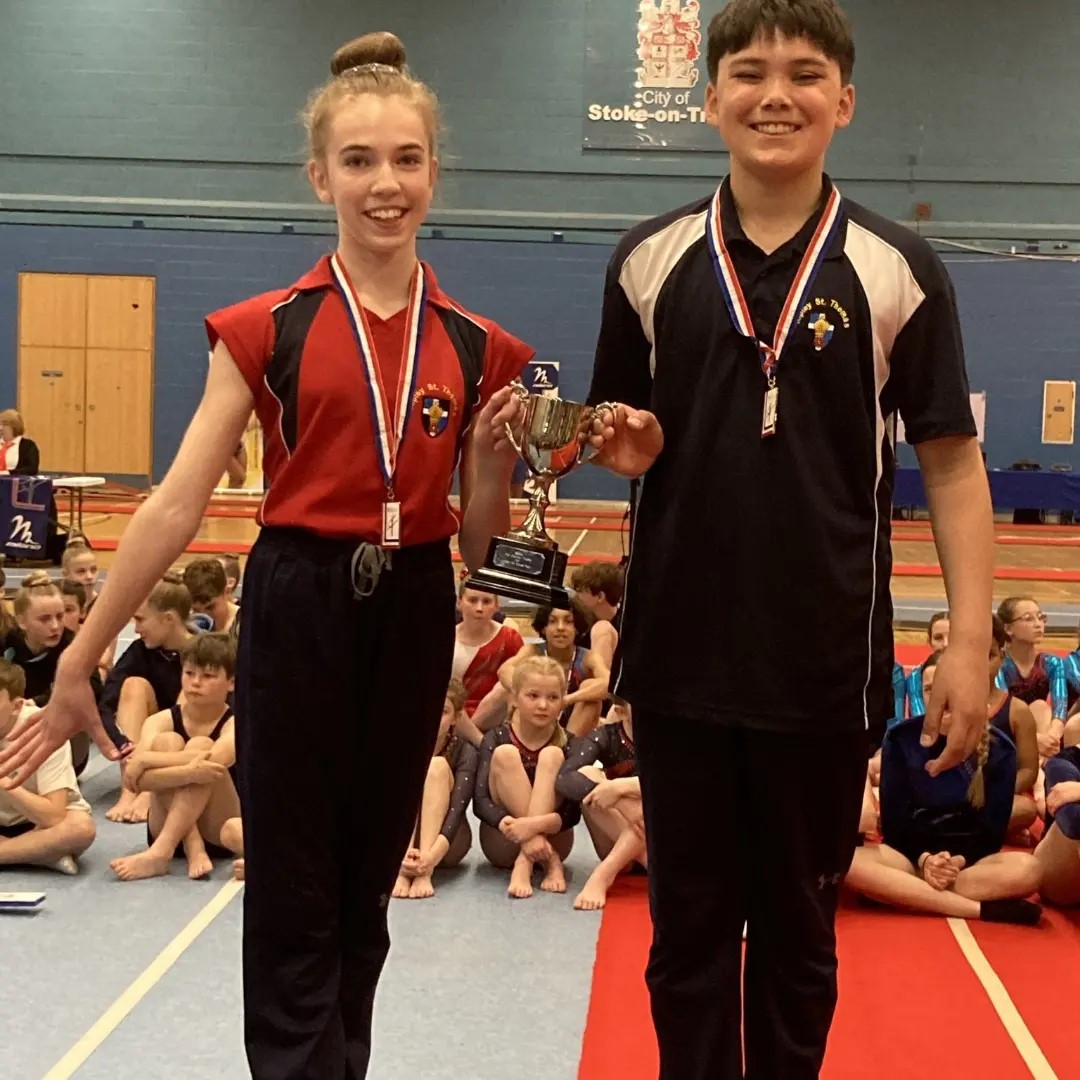 Q Tell us about your most recent success
Oscar: So this was the Schools competition and me and Daisy train at City of Lancaster Gymnastics Club and we had to compete with someone as partners from the same school. We first went to qualifiers, competing against another pair from a different school. We won that, then went to nationals against people from all over the country and we won that so we are now the best in Britain in our category!
Q How many other schools were at the competition?
Daisy: Over 50 other schools, pairs from all over – Yorkshire, Wales, Scotland, down south. The Final was held at Fenton Manor in Stoke.
Q What is the title that you  have recently won?
Both: British Schools National Champions in Acrobatic Gymnastics
Q How long have you been doing gymnastics?
Daisy: Since I was about 6, so quite a long time!
Oscar: Me too, since I was 6.
Q What age do you usually start competing?
Daisy: Even in preschool you do little competitions but the older you are the more advanced you become so you start to enter more competitions.
Oscar: We go to Portugal and places, we might be going to Las Vegas next year competing!
Q What attracted you to acrobatic gymnastics?
Daisy: I was energetic when I was younger and my Mum thought it would suit me and I knew a couple of other people that did it so it was a good idea.
Oscar: I did lots of sports, started with swimming but then moved on to gymnastics and found out I was good at it.
Q Thinking about boys/girls taking part in gymnastics, what's the balance in your club?
Oscar: More boys are starting it now, in the second highest groups there's a lot of boys. Our coaches choose who come up, we've got a preparing group so if they are ready to move up they will move them up. There's only 2 boys in our top group at the moment.
Q What's the training schedule like?
Oscar: We train a lot. Tuesday and Wednesday usually, then me and Daisy coach the lower groups on Thursday, Friday and Sunday. They are quite long sessions – Tuesday 4-6.30, Wednesday 4-8.30, Friday 6-8.30 and Sunday 9-1.
Q How do you manage to fit in all your school work?
Daisy: I do any homework as soon as I can so I don't have to try to catch up!
Oscar: I have certain days to do it and try to stick to that. You have to be disciplined but I suppose that's what we do with the gymnastics.
Q Do you do any choreography yourself or is it your coach who choreographs for you?
Oscar: Our coach Leah puts everything together and designs it.
Daisy: We also have a dance teacher who comes in and we do ballet which is good.
Q is it all floor work or do you use apparatus?
Oscar: All floor work but we do moves with our partners, as we are not actually partners
Q Oh I thought you were partners!
Oscar: Not in the club as Daisy is older, I am actually partnered with Daisy's sister. We were put together just for the competition.
Daisy: For normal competitions I am partnered with a couple of girls from LGGS.
Q Who would you say is your inspirations in terms of gymnastics?
Oscar: I would say Olly who used to be in the club is my inspiration.
Daisy: I wouldn't say there's that many famous acrobatics but there's quite a few we would class as high up in the sport.
Q What would you say to someone who wanted to get into acrobatic gymnastics?
Oscar: Go to one of our starter sessions at the University of Cumbria then as you get higher you go to our other location at our gym at Lancaster Leisure Park. It's a fun experience, if you work your way up you can seriously enjoy it.
Daisy: You do have to be fit and dedicated though.
Q You have to be fit and be able to take risks like tumbling and jumping?
Oscar: You need to tumble once you get better and better. I did start being a bit scared but as I became able to do it I lost the fear. Practice is important.
Q Onto ambitions – would you want to take this further professionally?
Oscar: Well there are world championships to look forward to.
Q At what age would you be put forward for that?
Daisy: It isn't really age related, other than being above a certain age to enter –it goes more on your ability.
Q What's the worst and best things about what you are doing?
Oscar: Dislike sometimes when time is taken up with training but understand that we need to do it.
Daisy: Sometimes you miss out on doing things with school friends because of training
Both: Best thing is our group is like a family so we all get on really well and have a wider circle of friends than just school!
We are delighted that Oscar and Daisy have achieved so much at such a young age. Let's keep everything crossed for international success soon!
#aspire24/7