Delight on A Level Results Day
We are delighted with this year's A Level results. This cohort of Year 13 had a particularly disrupted time at GCSE due to COVID and therefore this summer was their first experience of sitting formal examinations. They have shown remarkable resilience and determination and they have worked incredibly hard. We are very proud of them and congratulate them on their very well-deserved A Level results.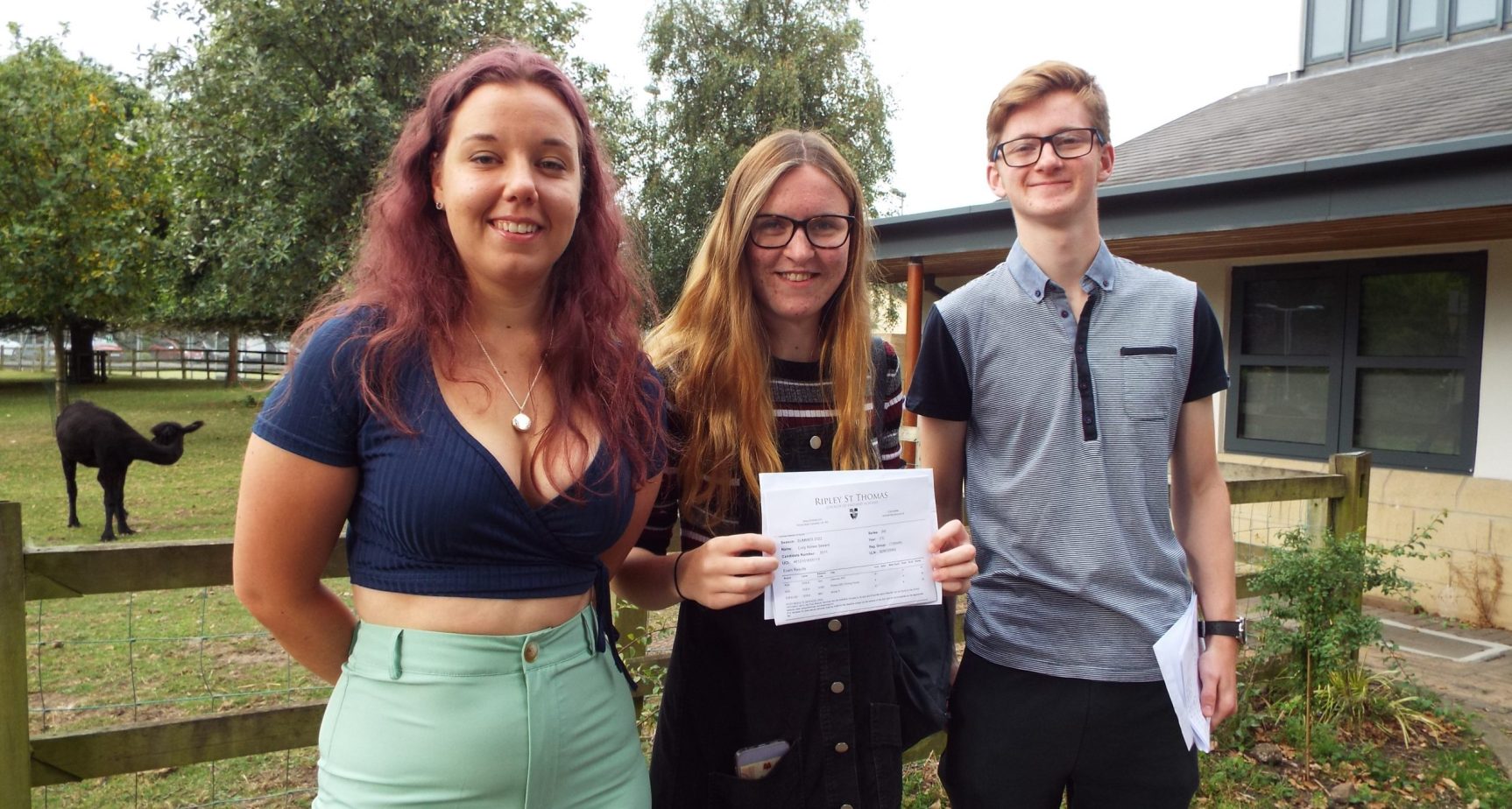 We are delighted that so many of our students have secured the grades required to meet their first choice offers at university.
Jasmine Austin will be studying veterinary medicine at Churchill College, Cambridge University; James McKimmie takes up his place for medicine at Leeds University.
Many of our students have taken up places on competitive courses at Durham, Warwick, Manchester and Lancaster.
The students below from last year's Year 13 cohort are taking up the following university places from September: Pip Alpin will study music at Cambridge University; Caleb Connolly will study medicine at Queen's University, Belfast and Jess Cummings is taking veterinary medicine at Harper Keele University.
It is difficult to single out individuals amongst some excellent results overall, however special mention needs to go to the following students for their exceptional performances:
4 A*s: Lukas Walls,
3 A*s , A + A* EPQ: Jasmine Austin
3 A*s, B: Rhys Bevan
3A*s for Grace Lloyd, Maja Marwedel, James McKimmie
2 A*, A: Ella Bonnick, Lauren Gallagher, Saffron Leatham, Caoimhe Mason, Lucy Seward, Morgan Ward
2A*, A, A* EPQ Brix Whiteman
2A*, A, B: Thomas McCartney
2A*, B: Frances Crooks
2A*, C: Amelie Rajaona-Horne
1A*, AA Juan Banchero, Claudia Fowler, Thomas MacNeil, Sophie Parkinson, Joe Taylor, Ellie Topping, Louis Warde-Jones
3As Hazel Carter, Alice Connolly, Pawel Gadja, Charlotte Hare
A*, A, B: Isobel Brown, Narita Davies, Jonah Maiden, Rebecca Schad and Eve Todhunter-Bell
Additionally, I would like to thank the whole staff team at Ripley for working tirelessly to support pupils both academically and pastorally throughout their time in our Sixth Form and also our parents and carers for their ongoing involvement and support.
We wish all our students the best for their futures and we look forward to hearing how they get on in the years to come.
Mrs Walmsley
Principal
Just a few images below of some of the happy faces this morning:
Below: Alycia Liptrot-Brocklebank is delighted with her results ensuring her place at Liverpool to study Law and Criminology: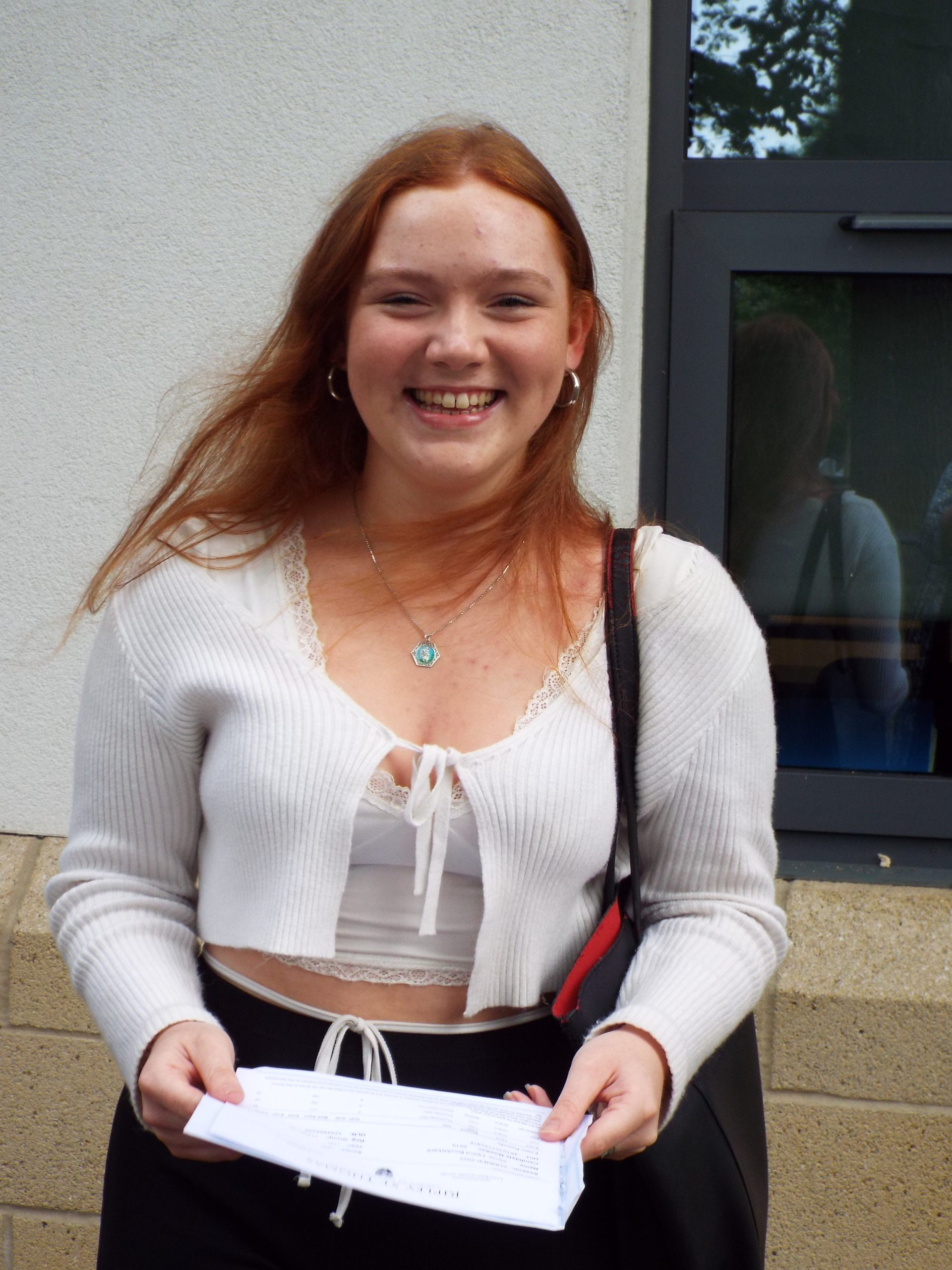 Below L-R:  Ben Walmsley will study Film at Derby whilst Lukas Walls' top results secured his Durham University Physics course. Joe Taylor will be off to University of Leeds to study Physics and Thomas McCartney is looking forward to starting his Maths course at Manchester University. Finally Thomas Midwinter is lucky enough to be starting an apprenticeship at British Aerospace soon.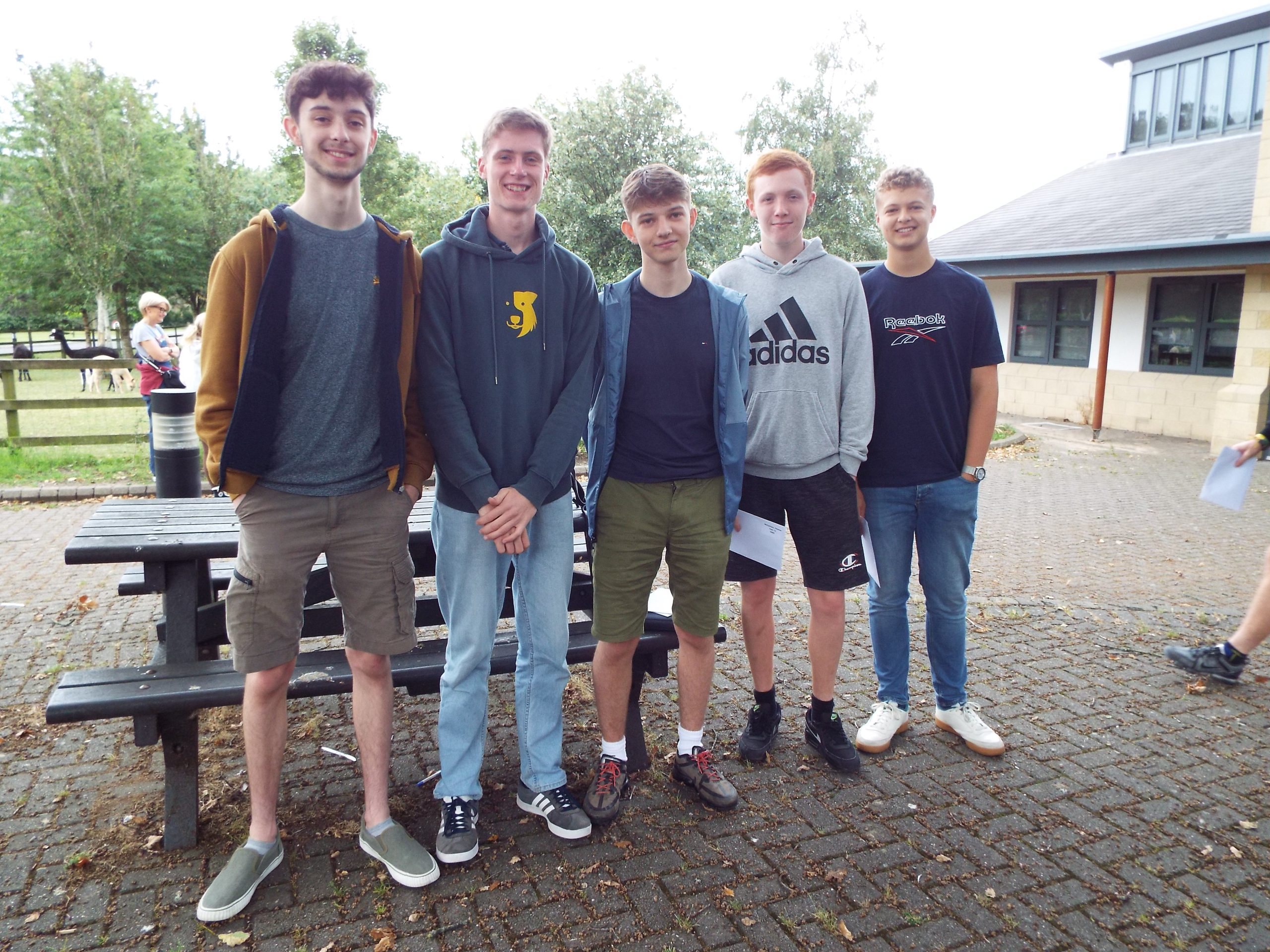 Below L-R:  Bethan Warriner is thrilled to have secured her Politics and International Relations offer at Greenwich. Lucy Seward's high results secured her place at Lancaster University to study Chemistry while Harry Slinger joins Lucy at Lancaster to study Business: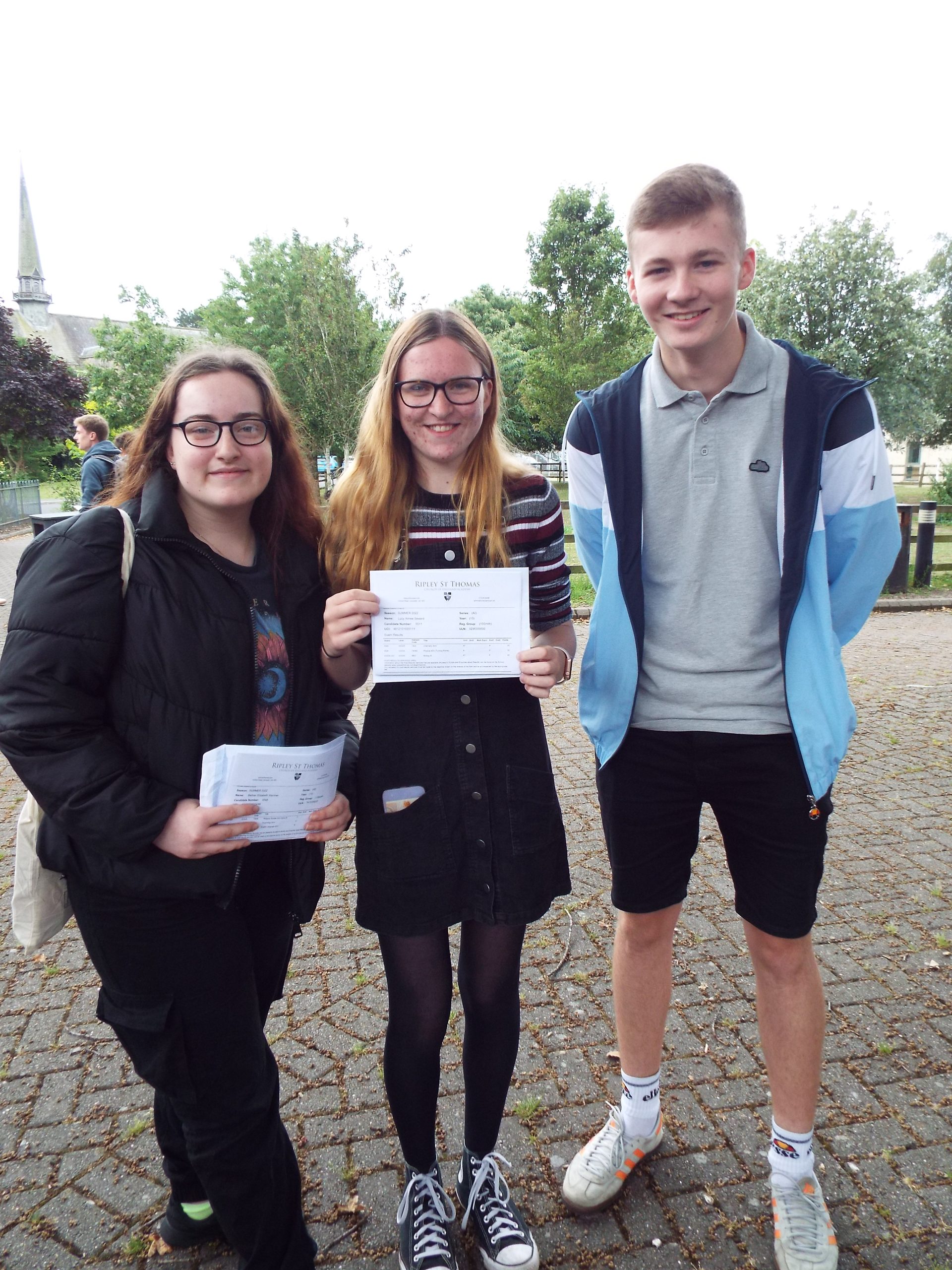 Below L-R: Scientists Jasmine, Lucy and Rhys all happily pose for their final Ripley photograph. Jasmine Austin is excitedly anticipating studying Veterinary Medicine at Churchill College, Cambridge. Lucy Seward's high results secured her place at Lancaster University to study Chemistry while Rhys Bevan will be on his way to Warwick University soon to study Maths and Physics.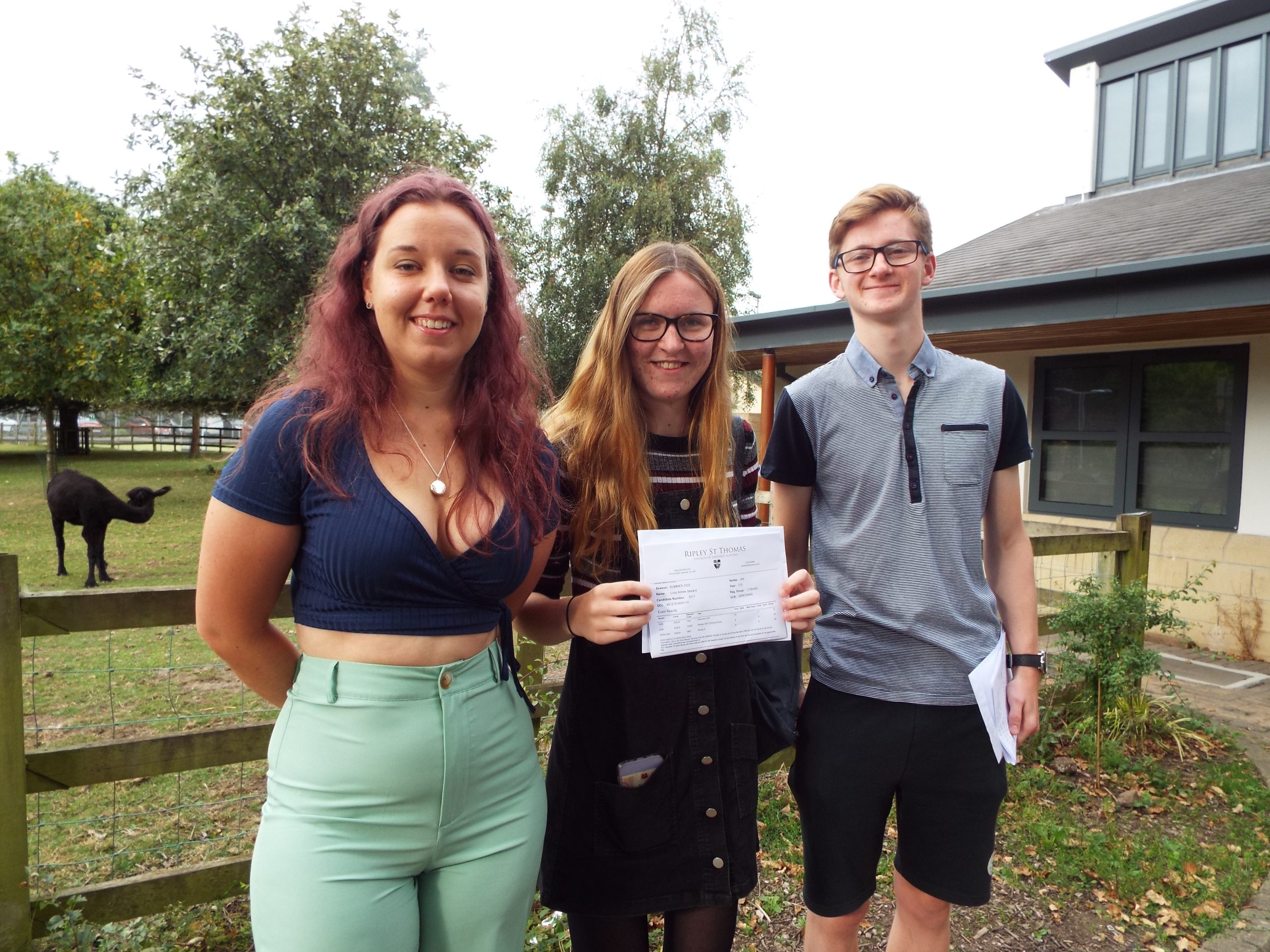 Below L-R: Happy smiles from home birds Jessica Pennington and Olivia Taylor. Jess has successfully gained her place at University of Cumbria to study Primary Teaching and Olivia will be on her way to Lancaster University to study Sociology: