Ripley pupils awarded a coveted Eco-Schools Green Flag with Distinction
Ripley St Thomas Eco-Committee are delighted to announce that they have been awarded an Eco-Schools Green Flag with Distinction. This is the highest level obtainable so the team are thrilled to have earned an international accreditation this academic year, recognising their work in making their school more environmentally friendly and raising eco-awareness in fellow pupils.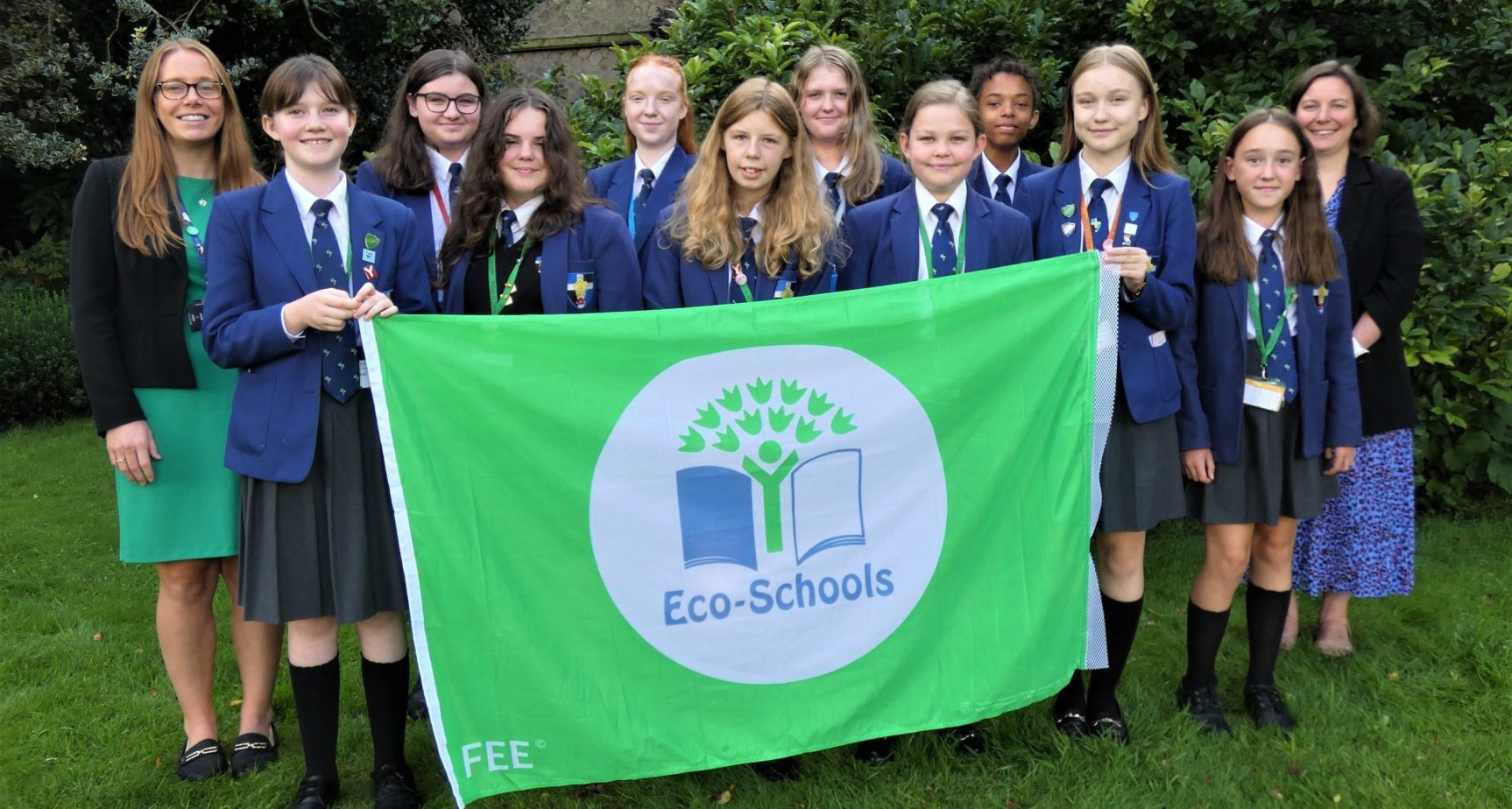 The Eco-Schools programme was established in 1994 and is now delivered in more than 70 countries across the globe. More than 1 million pupils attended an Eco-School in England in 2022-23.
The Ripley Eco-Committee is made up of the Eco-Club, run by Geography teacher Alice Bradshaw, and the Eco-Council run by Kate Potter, Director of Sustainability. They collaborated  to conduct an environmental review, assessing how eco-friendly their school is, reviewing everything from biodiversity within the school grounds to how pupils and staff members travel to school. Building on their findings, pupils, Miss Bradshaw and Mrs Potter then planned a year of action designed to advance their school's green credentials, improve their local environment and protect our planet.
Kate Potter had this to say about the pupil ethos and efforts:
"This incredibly thorough application to become an Eco-School involved a very detailed review/submission. Parts of it were carried out by the pupils themselves and they have acted on labelling water foundations/ making signs and creating displays. Other sections covered the curriculum, energy usage and catering and this review will be very useful for making further improvements next year. We are very proud of our pupil response in securing a Distinction from Eco-Schools and look forward to building on this throughout the year." 
They received  excellent feedback from Eco-Schools:
"Your greatest successes link clearly to the experience of your pupils. It is great to read about the positive impact that Eco-Club has had, especially when considering their ability to raise awareness and change mindsets. This is what the best forms of climate action are about – impactful but achievable things that create a positive experience and prompt more action. We love this! Challenging long-standing attitudes and approaches is a big challenge to face. It creates a pressure and takes resilience to keep going. With this context, your achievements are even greater and we feel lucky that you've committed to our programme and delivered the achievements that you have. This is a big achievement."
"Your Eco-Code is very punchy, clear and easy to digest for those that see it. It's a direct call to action. Overall, this is a terrific application. Everyone at Ripley St Thomas Church of England Academy should be proud of the Green Team and the amazing and inspiring work that they've delivered this year. You're more than worthy of an Eco-Schools Green Flag with Distinction, Congratulations!"
Eco-Schools England Manager, Adam Flint, said: "The Eco-Schools Green Flag award is an internationally recognised symbol of high environmental standards. The pupils and school staff that earn the award deserve immense credit for their hard work, determination, and creativity. Their passion for protecting our planet is an inspiration to us all."
To learn more about Eco-Schools head to www.eco-schools.org.uk
Photo
L to R: Miss Bradshaw, some of the Eco-Council and Eco-Club members and Mrs Potter proudly display their Eco-Schools Green flag