Scholar Sam secures Jazz study
This year we have been fortunate to have Sam Virdie as our Ripley Music Scholar since September 2020. We are delighted and very proud to hear that Sam has now gained a place in September 2021 at Trinity Laban Conservatoire in Music and Dance in London to study BMus (Hons) Jazz. This prestigious course only accepts around 2-3 trumpet players each year within a cohort of around 21 students so this is a major achievement for Sam and any of his music teachers in the past.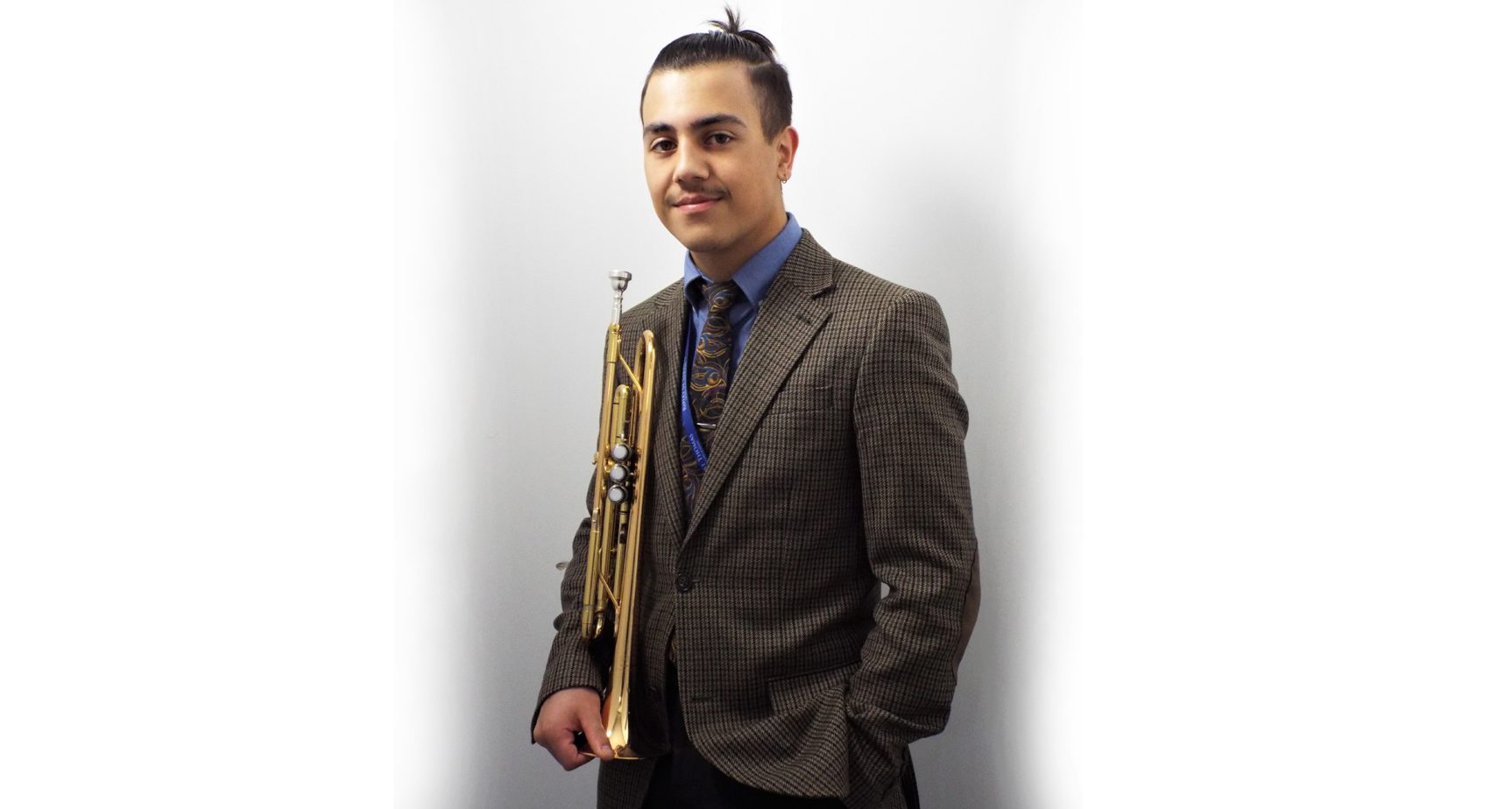 Scholar Sam secures Jazz study
Music wasn't always Sam's first choice and when he was 16 after GCSE results, Sam was intent on studying Engineering, specifically at Durham University.
When asked what made him change direction, Sam said:
"I chose Engineering and Durham as it was what people told me I should do, but as I progressed through A levels and with the COVID-19 uncertainties over exams, I realised my passion lay in playing Jazz and I decided I should do what I love not what was expected of me.
Lockdown helped me to focus on that as I played constantly and it became my life. I started having one to one virtual lessons with musician and trumpet player Tony Glausi every 2 weeks which gave me lots to work on and improve.
My original plan was to be doing an internship at Bentley in the UX Department. Around July 2020, I realised that I wanted to pursue a career in music – Jazz in particular – so I applied for the Ripley Scholar role as it allowed me to have music as my full focus in order to gain a place at a Conservatoire. I wrote 2 pieces of music to fit to animations which I really enjoyed. Since starting as a Ripley Music Scholar I have been offered work with a top design engineer using animation software. The plan has now changed so from January 2021 he will now be my mentor until I start at Trinity. My aim is to be able to use these skills alongside my music whilst preparing for September."
We were interested to hear if Sam had any opposition from anyone after such a radical change in direction – he said there was a little initially but after the realisation that this was something Sam could seriously pursue, he now has lots of support from family and friends.
Mr Gillthorpe had this to say on hearing the news:"We are delighted that all Sam's hard work and dedication has paid off with this offer to study at such a well-respected institution.  Sam has been a real asset to the Music department in the time he has been here and he is a brilliant role model for all Ripley musicians. It has been a real pleasure and a privilege to have worked so closely with Sam and to witness his developing passion and talent for music, especially through his work with the jazz band; he is certain to flourish in his pursuit for musical excellence and we greatly look forward to hearing of his progress in the years to come."
Sam wants to learn as much as possible and experience many different music and cultures around the world. His next 2 years at Trinity will focus on learning, practising and playing – Sam's final 2 years will allow him to develop personally as a musician whilst still being grounded in traditional jazz.
His philosophy is "If you know the rules, you can break them"
Good luck for the future Sam – you are a really positive role model for all our students considering careers today at Ripley St Thomas.